Welcome to our dojang!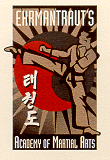 "THE WINNING EDGE"

Our Academy's training program will help beginners through advanced athletes and non-athletes achieve peak performance levels... not only in your TaeKwonDo practice... but also in your personal, scholastic and professional lives. We've got what it takes to give you the "Winning Edge".


Ehrmantraut's Academy of Martial Arts
1021 South Washington Street
Bismarck, ND 58504
Phone (701)258-7305
Fax (701)250-9890


---

THE INSTRUCTORS

CLASSES OFFERED



PEOPLE HAVE VISITED THIS PAGE SINCE JUNE 28, 1999

To sign our guestbook, please click the book!
---


Created with CoffeeCup HTML Express 3.0